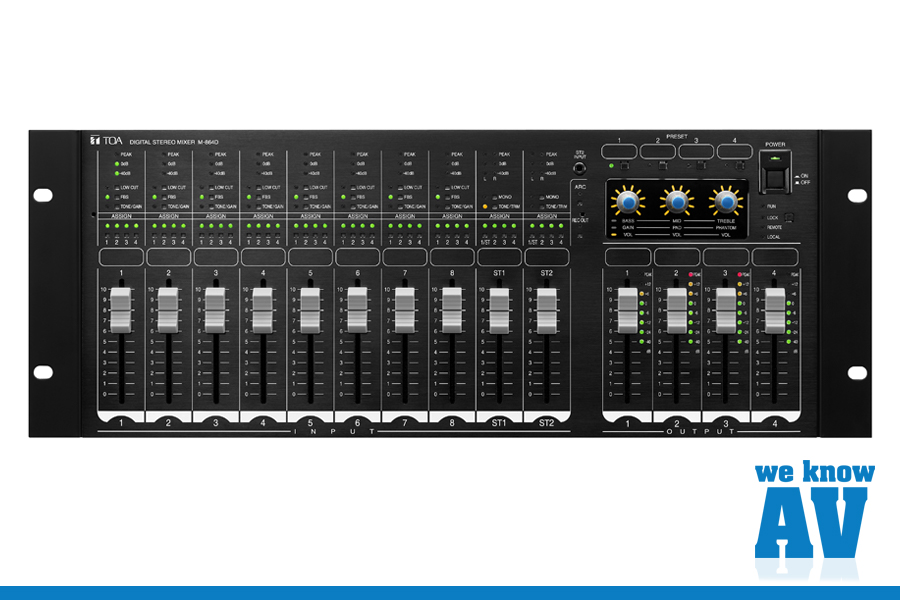 Digital Mixer
22-Input Stereo Mixer (8 Mono, 7 Stereo)
6 Output Channels
Optional DP-SP3 Processor
iPad® interface
Extensive Accessory Set
The TOA M-864D is a 4U rack mountable Digital Stereo Mixer includes several versatile features that enhance its simple functionality and operability. These features include an analogue feel fader operation, Automatic Resonance Control (ARC) measurement and processing algorithm that optimizes speech and sound clarity for individual acoustic environments, Automatic stereo input mute (Auto Mute or Ducker) function that mutes stereo input automatically when detecting a monaural control signal, remote controller operation and Dedicated GUI software facilitating higher precision parameter setting adjustment on PC via Ethernet LAN. The M-864D is the perfect solution for hotel banquet rooms and multipurpose halls.
We Know AV Say
"The TOA M-864D Digital mixer with its large number of inputs and outputs is a good all-round general purpose installation mixer."
For Pricing and Further Information
If you want to learn more about the TOA M-864D Digital Mixer, we'd be really pleased to talk to you.