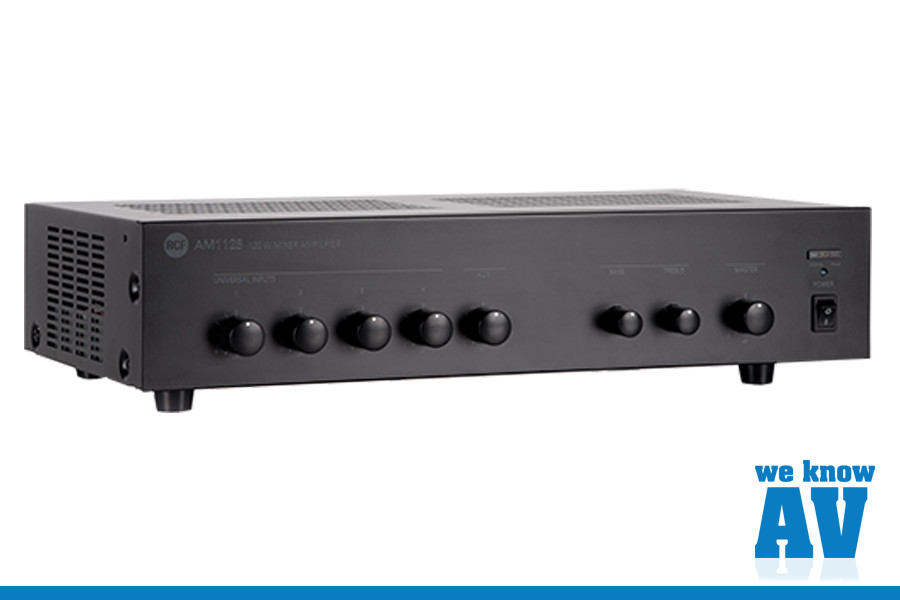 Mixer Amplifier
120W Output (4-Ω/100V/70V)
XLR Input x 4
Vox Facility
Phantom Power (Mic1)
24Vdc Operation

The RCF AM 1125 is a 120W mixer-amplifier with 4 audio inputs. Audio input 1 has Phantom power supply and get the priority over the other audio inputs through an external command or automatically thanks to the 'VOX' circuit. Dual RCA connectors can be used to link stereo (unbalanced) sound sources (e.g. CD – MP3 players, tuners, etc.).
The amplifier output is available either for low impedance loudspeakers (min. 4 Ω) or 100 – 70 V constant voltage line (for loudspeakers having 100 – 70 V transformers). It can also be powered by batteries (voltage: 24 V dc), in order to ensure its proper operation even when the mains supply is unavailable.
We Know AV Say
"The RCF AM1125 Mixer Amplifier is flexible for use in education, houses of worship and retail applications."
For Pricing and Further Information
If you want to learn more about the RCF AM1125 Mixer Amplifier, we'd be really pleased to talk to you.