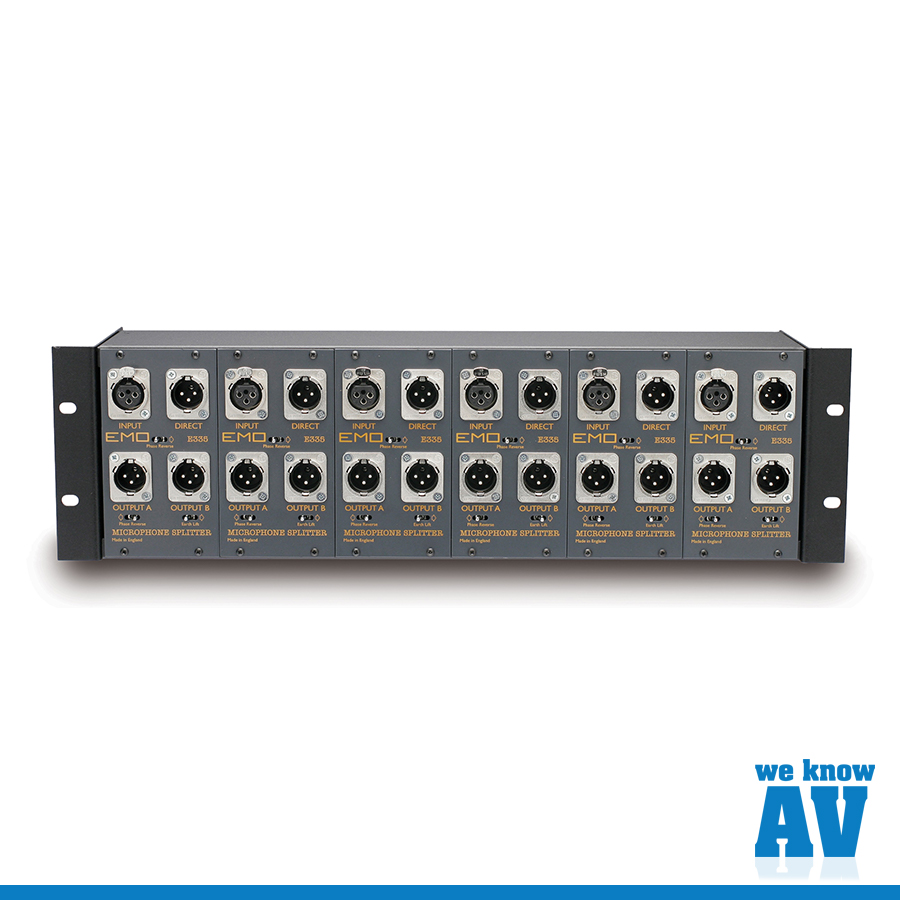 Microphone Splitters
20Hz to 20kHz ±0.25dB Freq response
Maximum Input Level at 30Hz + 4dBm
145 x 96 x 50mm Free Standing
483mm (19″) x 133mm (3U) x 100mm Rack Frame
0.55Kg Weight

These professional quality microphone splitters are available in two formats, either free-standing or panel mounting.
The microphone splitters have three outputs in either format, one direct and two transformer coupled, one of which will pass phantom power to the input. The microphone splitter is fitted with two phase change switches and an earth lift switch; this combination will solve most operational problems. The panel mounting microphone splitter is suitable for permanent installation in OEM equipment, studios, OB vans, mobile sound systems, etc.
If a multiple splitter is required, the 19″ rack frame will accomodate up to six units. E535 panel-mounting DI boxes may be mixed in the same frame and E337 blanking plates may be used to take up unused space.
We Know AV Say
"EMO Systems has led the market for hardware and ancillary equipment and is a great solution provider with its range of power distribution and direct-injection products."
For Pricing and Further Information
If you want to learn more about the EMO Microphone Splitters, we'd be really pleased to talk to you.