EMO Direct Injection (DI) Boxes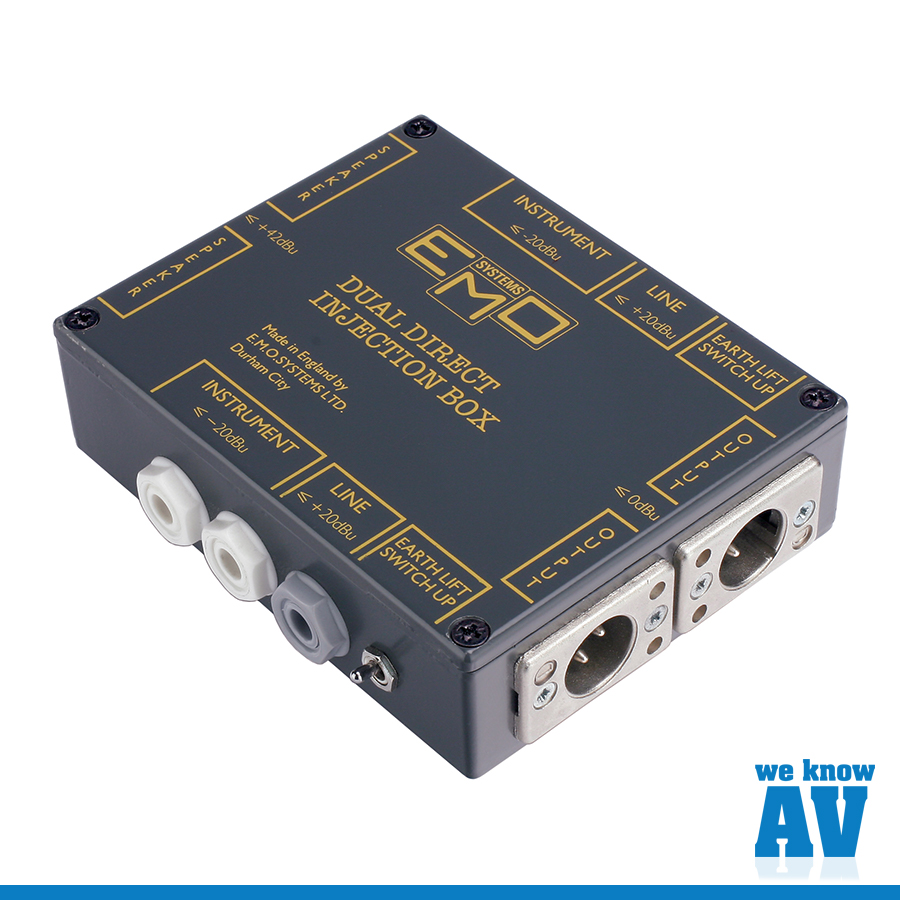 Professional Shotgun Condenser Microphone
20Hz to 20kHz ±0.25dB Freq Response
Maximum at 30Hz + 4dBm
Free-standing 145 x 96 x 50mm
Rack Frame 483mm (19″) x 133mm (3U) x 100mm
0.55Kg
High quality passive direct injection boxes with multipurpose inputs and output. The units are suitable for both broadcast, studio and public address work. Available in single and dual channel versions. Also in 19″ rackmounting multichannel formats. Multipurpose – works from pickup, amp, speaker outputs and even 100 volt line etc. Output fully floating, nom. 10mV. Suitable for mixer input impedances 200 ohms upwards. Earth lift switch on E520, E525 and E545 minimises hum problems (not fitted on E540). Safety-isolated to 1kV (standard types), 4kV (high isolation type). Robust, housed in strong diecast metal box, with durable epoxy coating. Dimensions: 110 x 60 x 35mm (single unit) – 120 x 95 x 36mm (dual unit).
The E580 offers eight channels of passive DI box in a 1U rack mounting format for applications where rack space is limited and multichannel operation is required. Reversible rack ears and internal headers allow the user to be flexible in their choice of operating mode and mounting position. The unit has the same technical specifications as the other EMO DI boxes.
We Know AV Say
"EMO Systems has led the market for hardware and ancillary equipment and is a great solution provider with its range of power distribution and direct-injection products."
For Pricing and Further Information
If you want to learn more about the EMO DI Boxes, we'd be really pleased to talk to you.