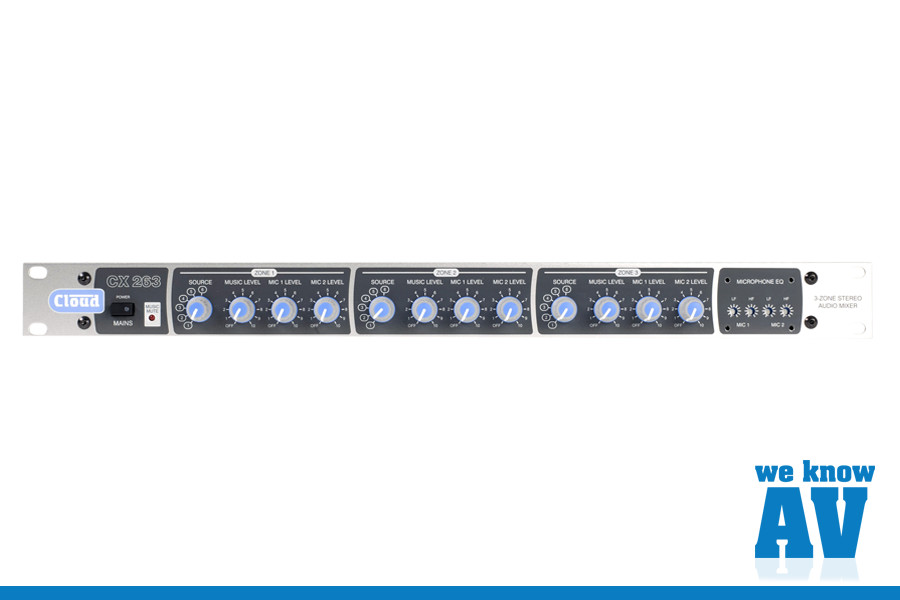 3-Zone Mixer
3 Zone Output (1 Stereo, 2 Mono)
6 Stereo Inputs
Line 6 Priority Option
Microphone Priority
Music Mute

The Cloud CX263 Zone Mixer is an ideal solution for leisure, licensed and retail outlets. This compact 1U zone mixer has 6 line inputs, 2 microphone inputs and paging mic access contacts on Mic 1. Outputs are routed to three zone outputs, 1 stereo, 2 mono which allows complete flexibility and the ability to play different audio sources in each zone, each at their own level.
Additional remote control options, analogue and digital via an optional CDI-S200 interface card provide complete fexibility.
We Know AV Say
"The Cloud CX263 Zone mixer provides a lot of punch in a small box, with lots of features packed into this very flexible zone mixer."
For Pricing and Further Information
If you want to learn more about theCloud CX263 Zone Mixer, we'd be pleased to talk to you.