Chauvet Freedom Par Tri-6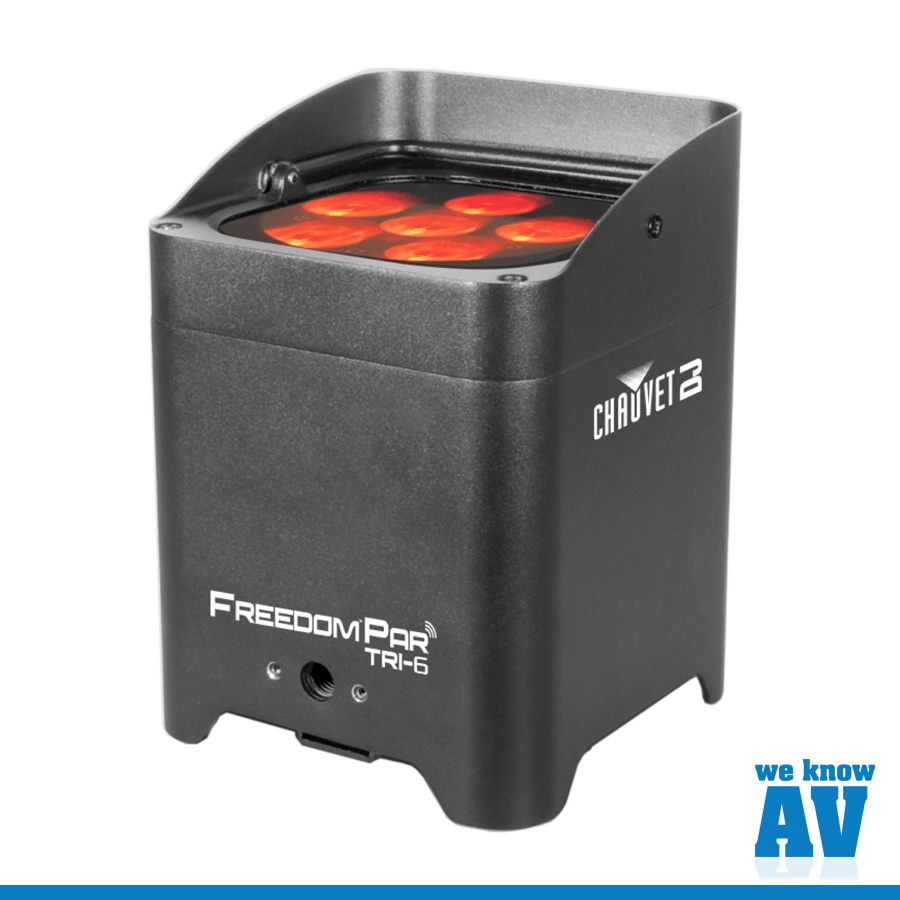 Wireless Rechargeable LED
100% TRUE wireless, battery-operated, tri-color LED Par with built-in D-Fi™ transceiver
Multiple wireless triggering and control options via the FlareCON™ Air and the FlareCON™ app
Works in Master/Slave with first-generation Freedom™ Pars
Shine light where it is needed using the built-in adjustable kickstand
Built-in glare shield prevents light spillage
Extend the battery's lifespan with built-in discharge protection
Convenient, wireless non-DMX control using the IRC-6 remote
Create customized colors using the built-in LED display
Achieve smooth LED fading with built-in dimming curves
Safely store and transport your fixtures from gig to gig in the CHS-FR4 carry bag
Compact and lightweight design easily fits inside sticks of TRUSST®
Freedom Par Tri-6 is powerful, bright, and truly 100% wireless with a rechargeable battery and a built-in D-Fi transceiver. Freedom Par Tri-6 has 18 watts of RGB color mixing and can be operated with the control panel, the included CHAUVET® DJ IRC-6 remote, or from any mobile phone or tablet running the FlareCON mobile app. Freedom Par Tri-6 fits perfectly inside TRUSST®and all other 12" box truss, and travels safely and stylishly in the CHAUVET® DJ CHS-FR4 VIP Gear Bag or using the Freedom Charge 9 road case.
We Know AV Say
"The new Chauvet portable, wireless Freedom Par Tri-6 offers convenience, affordability and flexibility."
For Pricing and Further Information
If you want to learn more about the Chalet Freedom Par Tri-6, we'd be really pleased to talk to you.